Duterte set to release Trillanes bank deposits Featured
Amid claims by Sen. Antonio Trillanes IV that his son has a triad tattoo, President Duterte shows reporters a rose tattoo on his arm during a visit to a military hospital in Cagayan de Oro City yesterday. Looking on is Defense Secretary Delfin Lorenzana.
DAVAO CITY, Philippines — President Duterte will soon give his nemesis Sen. Antonio Trillanes IV a dose of his own medicine, as he threatened to expose the latter's alleged wealth hidden in foreign bank accounts.
"Akala mo ikaw lang? Kaya ko rin (You think you're the only one? I can do it also)," the President said, twitting Trillanes, in his speech during the closing ceremony of the Mindanao Business Conference held in Cagayan de Oro City last night.
Trillanes has been hitting the President and his family for over a year now, alleging ill-gotten wealth and the involvement of presidential son Davao City Vice Mayor Paolo Duterte and son-in-law Manases Carpio in the smuggling mess at the Bureau of Customs (BOC).
"I'm coming up with Trillanes' bank deposits (which are) all over," the Chief Executive said, adding that the opposition senator has huge amounts of money kept in various foreign bank accounts, aside from money held in domestic accounts.
"I'm giving you in a few days the number of deposits that he has with his bank accounts in Hong Kong, China, Australia and the US," Duterte said, as he is just gathering more information on these bank accounts abroad.
The President insinuated that Trillanes' money in foreign bank accounts would show they are "ill-gotten."
'Fake news'
"Hindi totoo 'yan. Fake news 'yan. Sinungaling 'yan si Duterte (That's not true. That's fake news. Duterte is a liar)," Trillanes said in a statement last night, in response to Duterte's allegations.
"Hinahamon ko siya na ilabas niya 'yung detalye at agaran ako pipirma ng waiver para malaman ang katotohanan (I dare him to reveal the details and I would immediately sign a waiver so we'll know the truth)," he added.
Shortly before the May 9, 2016 elections, Trillanes alleged that Duterte has over P211 million in bank deposits, which was amassed during the latter's term as mayor of Davao City.
The senator recently linked the younger Duterte and Carpio to the so-called "Davao group" that allegedly influences the release of contraband without being checked at the BOC.
He even accused the vice mayor of being a member of the Chinese triad that engages in international smuggling and drug trade.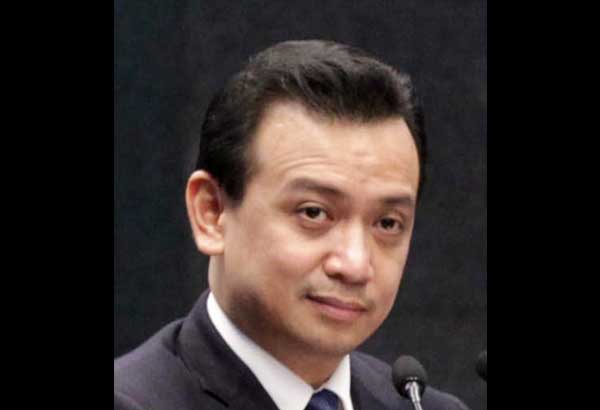 Trillanes
In the hearing of the Senate Blue Ribbon committee on the P6.4-billion shabu shipment from China and BOC corruption last Thursday, Duterte and Carpio appeared and denied allegations that they were involved in smuggling activities.
Broker and whistle-blower Mark Taguba also cleared Duterte and Carpio of any involvement in the issues at the BOC.
The President has repeatedly said that all he needs is concrete evidence linking his son to smuggling and he would immediately step down from office.
Trillanes: Duterte needs psychiatric help
Meanwhile, Trillanes yesterday advised Duterte to immediately seek psychiatric help for he is starting to lose his mind.
Reacting to the latest statements made by the President against him, including advising members of the military and the police to challenge him to a duel, Trillanes said it was clear to him that Duterte is feeling the pressure and panicking, making him lose his mind as a result.
"These are the words of someone who is no longer thinking and that is why I said that he is having a meltdown," Trillanes said.
He added that the President is probably stressing out over the responsibilities of his office, the proof already being presented in public about his illegal activities, which makes the senator question the Chief Executive's psychological capacity to govern the country.
"This is not how a sane person speaks. Our people have reason to be concerned," Trillanes said.
During his speech at the Araw ng Digos celebration last Friday, Duterte also showed a gun tucked in his waist and even claimed that it was not licensed.
Trillanes advised the Presidential Security Group (PSG) to disarm the President because an insane person cannot be allowed to carry a gun.
Trillanes said that the PSG would be held accountable if the President ends up shooting himself or someone else. – With Marvin Sy
back to top